HALF-SAREE PHOTOGRAPHY HYDERABAD
Half Saree Function Photography - What Exactly is Half Sari Function?
Langa Voni | Pavadai Dhavani | Langa Davani
Indian culture is known to be vibrant, clear and celebrative. From revering trees to creatures everybody residing and all that non-living has been given a position of regard and importance.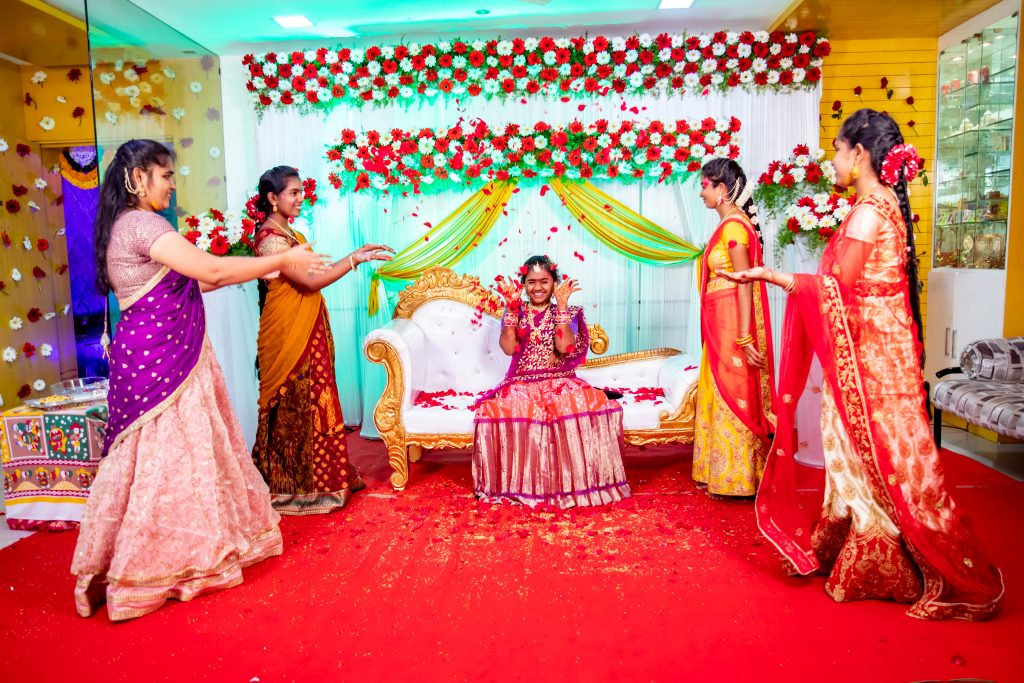 Half Saree Function Photography Packages
One professional photographer
RAW softcopies to be given directly to your hard disk.
Traditional Photography only.
2-3 Hours of photoshoot. Any extra hour will be charged extra Rs 4000 per hour.

Strict Timings will be followed.
Client location Hyderabad


1 Professional Photographer and 1 Traditional videographer
A Photoshoot of approximately 3-4 hours
Unlimited Photos to choose from. HD video coverage of the entire event
Album can be provided at an extra charge of Rs 500 per sheet ( Non terable glossy finish canvera quality)
Client location Hyderabad / outstation travel charges as actual
1 Candid Professional Photographer 1 Cinematic videographer
A Photoshoot of approximately 4-5 hours.
Unlimited Photos to choose from. 4K Cinematic video of the entire event as well as Cinematic Teaser.
250 pictures each colour corrected and edited also RAW pics of the shoot
Client location Hyderabad / outstation travel charges as actual
While numerous traditions which had enormous legitimate importance a long time back there are numerous which actually hold water till today and are praised even today.
A famous custom uniquely in south India which is ordinarily known as Half saree function, it has gigantic importance in practically every state of southern India.
What is half sari function?
Half Saree function is celebrated like a wedding event where the young lady contacts her pubescence or more specifically enters her frist period cycle. This function is to commend her initial step to womanhood. She is presently considered as developed, a soul changing experience from a young girl to a woman.
The event is sometimes called as Ritu Kala Samskara or Ritu shuddhi where young ladies are dressed with Sari and tries to look mature and elegant.
What is Langa Voni , Pavasai Dhavani and Langa Davani ?
It is basically a dress specifically sari which will be draped in a certain way by the girls in south india during half saree function once they reach puberty.
In telugu they call it Langa Voni , In Tamil they call it Pavasai Dhavani and while in karanataka it is popularly known and Langa Davani. A sari draped more like a lehnga.
What happens during Half Sari function?
Half sari function means young lady going into her pubescence, it's a festival of strengthening and custom to section. By and large such events are celebrated at par to a wedding with visitors including elders, relatives friends, and family members are welcomed. The most well-known gift incorporates saree and jewelry.
A total stage is an arrangement where the young lady sits on an extraordinary seat joined by her folks or direct relations, Invited visitors then continue with presents for the young lady and give their gifts and blessings.
A cutting-edge half sari function incorporates pooja, customary food, Photoshoots, DJ and all the other things to make this event more effective and fascinating.
Why half sari function is celebrated?
It's an ancient custom to celebrate a girl coming of age or reaching her first menstruation cycle. The celebration is grand with family showing their affluence and hospitality.
In short this ancient practice reason was to announce that the girl who is now moved on to be a woman is now eligible for marriage proposals. It is not essential that she will be married immediately however the process will begin from this function. Additionally everyone will get an opportunity to see the family, wealth, customs and hospitality.
In a modern day setup, it is just celebrated as a custom and not aiming to marry the girl particularly. However you will still see grand setup for the function which sometimes better than a normal wedding function in India.
Although slowly the numbers are decreasing it still remains a very popular custom in south India.