Here is a list of curated Best Destination wedding locations in India. A destination wedding is a trend now, you won't want to miss it.
Wedding is not just a matter between the couples in India, here its much more then that. Wedding in India is a complete festival in itself.
As nuclear families are growing more and more in urban India, the concept of Destination Wedding is spreading. Many couples now a days wants to keep their wedding short and sweet , yet memorable and fun. So they invite only 100-200 members and choose some exotic destination place for their wedding.
It is for sure that India has some of the most extravagant wedding destinations on the planet earth. We will be exploring some of india's exotic wedding destinations as well as some of the affordable ones.
Exotic Destination Wedding Location in India:
Royal wedding in Rajasthan – if you want to get married in a maharaja style there is no place better than Jaipur or Udaipur both located in Rajasthan. With several palaces converted into luxurious hotels, you have ample options to experience Royalty. Shades, hues, customs, rituals, elephants, horses, camels, fire jugglers, folk songs and folk dance, colorful turbans, hookahs, palatial facades and much more.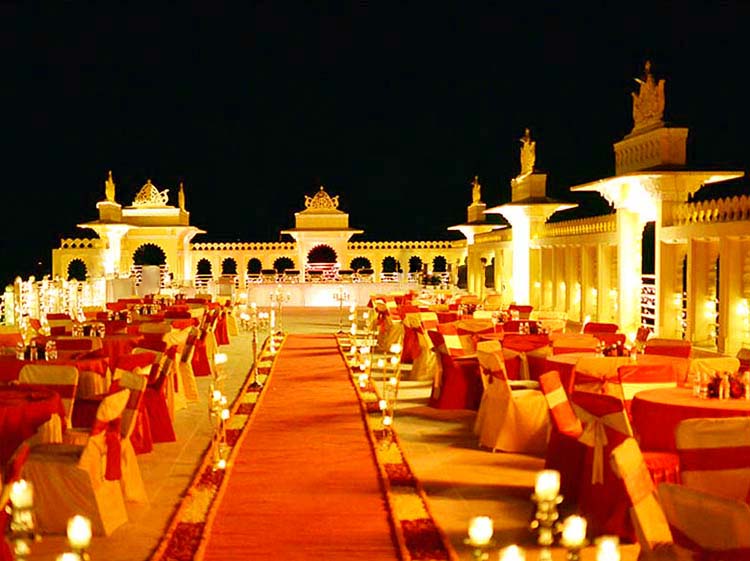 2) Nature at its best in Kerela: Awesome hills, greenery and a beautiful skyline makes a perfect backdrop for classic wedding destination. Unending virgin sea shore and untainted sounds along the backwaters gives kerela a legacy of Best destination Wedding location in South India. You can book a boat for pre-wedding as well along side the coconut farms and backwaters. It will make an awesome setup. What's better than getting hitched in God's own country. The beautiful sunrises and colorful sunset along the banks, the cascades and sweet breeze enchanting the romantic atmosphere will make your wedding guest go gung-ho. Kerela wedding is bound to be a sure shot success among your wedding guests as well. If will be their once in a life time experience.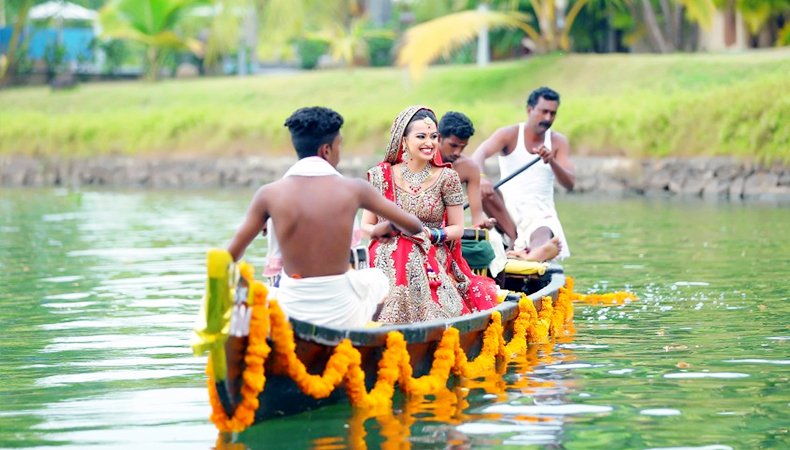 3) Beach side affair in Goa: if you are planning to get married with maximum fun and entertainment in mind then don't think anyting else than Goa. Goa is heaven for destination wedding lovers. Maximum Christian style weddings are planned near the beaches in Goa. Imagine a setup with a beautiful stage alongside the shoreline and serene blue sky as well as the vast blue ocean at the background. Classy, royal and beautiful , this is what getting married in Goa means. It's a fusion of fun and royalty. The whole set-up is very picturesque so even your wedding photographs will be awesome too. Goa always rocks, so will your wedding because Goa means music, dance, party and festivity.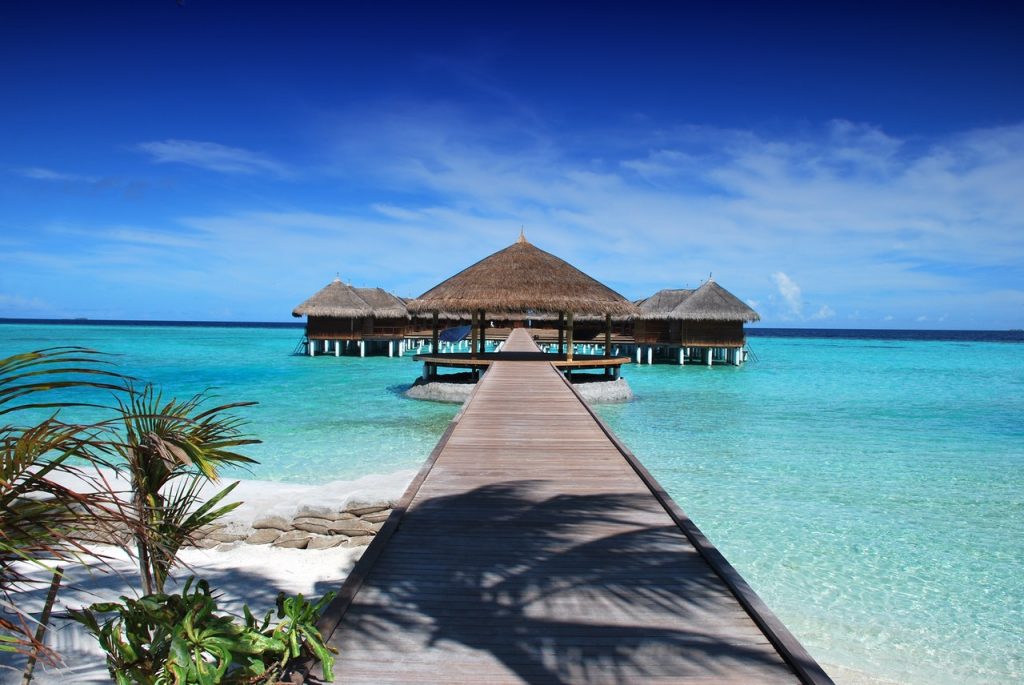 4) Andaman and Nicobar: Andamans is the Maldivies of India, with extensive flora and fauna, sea corals, beautiful fishes, watersports and seashores. It a picture perfect wedding destination. If you need a secluded wedding far from the clutters and humdrums of city life Andaman is the best place. You need to book trough reliable agents or book hotels or resorts that are allowed to operate because some island in Andaman are not open for common public as its inhibited by indigenous people.
Budget Destination Wedding Locations India
5) Mussorie: Mussorie is very famous hill station in India. If you love mountains/slopes, flowing river sound and soothing breeze you are looking at the right place. Hill weddings are so awesome. Imagine the delightful tree shrouded mountains peeping down the valley, the dreamy landscapes of the Himalayas, clear sky with glittering stars so close that it feels like you can touch them. Mussorie has a romantic aura to it. It's a no brainer that if you are planning for your wedding in summers than Mussorie is the best place very well connected to the cities via road and rail. Dehradun is the nearest Airport and the best part is people in Mussorie is very humble, big hearted and honest.
6) Hyderabad the city of Nizam: If you have the desire to get married in a Nizami style than no better place than Hyderabad. You can also plan for your pre-wedding photoshoot near Charminar/Tarmati Baradwari or Necklace Road. Your wedding photos will speak volumes about the place place of your marriage. Not only this Hyderabad has one of the best cusines in India, authentic Hyderabadi biryani and "Kubani ka meetha" is few delicacies that you can opt for in your food menu along with some South Indian delicacies like butter dosa and sambar. Best venues: Golkonda Resort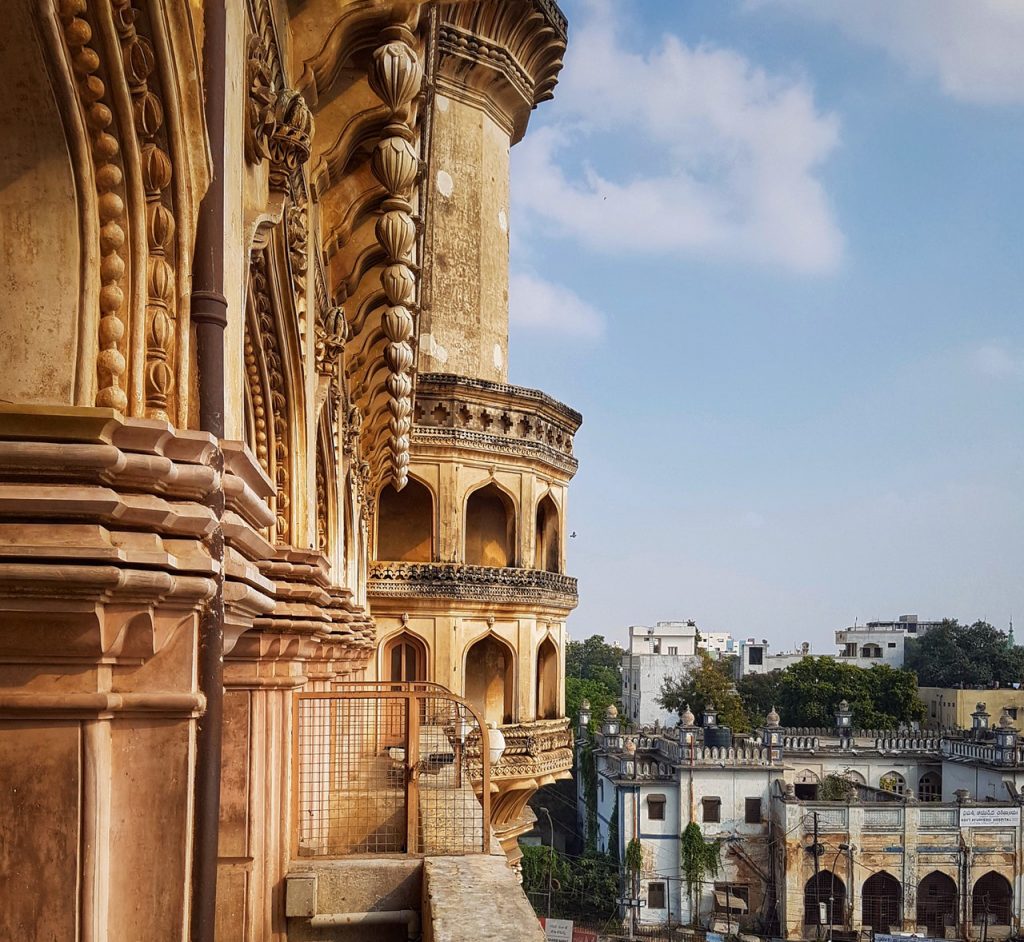 7) Sacred Affairs in the Holy city of Varanasi: Varanasi being the oldest city of India is also the cultural capital of India. The Heritage hub of India, also viewed as heavenly and holy abode of many God and Goddesses. Varanasi or Banaras has been given a facelift after PM Modi won the constituency and planned to clean the Ganga Ghats of Banaras. Banaras has this feeling of immortality and the whole atmosphere feels rejuvenating. If you are planning  for an authentic traditional wedding with all rituals and learned pandits and sages to bless you on your wedding day, then Varanasi is the place. There are many old heritage palaces which have been modified into beautiful hotels and banquets. You can even enjoy most famous Banaras ki Ganga Ghat Aarti, and yes don't forget to keep Banarasi Paan in your food menu as a dessert.  The beautiful charm and rustic appeal guarantees some awesome stills and photos.
8) Goa in a budget: Vishakhapatnam
In many ways, Visaz makes more sense to opt for then Goa. Goa is overhyped and during the Hindu Wedding season of Nov, Dec, and Jan Goa is completely overcrowded and overpriced. Visaz with its perfect, virgin shorelines is fast becoming a second option to many destination wedding lovers.
Aesthetic, stylish theme with a dash of innovativeness sprinkled all over the place, Visaz is a perfect place for Budget Destination Wedding planners. It has both the look and feel of Goa as well as the ease of getting good decorators and caterers from the city.
Obviously this is not the exhaustive list of destinations for your Destination Wedding, but I hope I have put a conclusion to your confusion on wedding destinations in India.  So once the venue and destination is fixed for your wedding don't forget to Book Digiart Photography for your Destination Wedding photography.