Pre-wedding photoshoot locations in Hyderabad are plenty, but this is a list of free pre-wedding photoshoot locations in Hyderabad.
Pre wedding photshoot is trending in Hyderabad these days. Pre wedding photoshoot is very essential in many ways. One of the most important advantages of pre-wedding photoshoot is that it gives an opportunity to both the parties to know each other (couple as well as the photographer)
Choosing  various location for a pre wedding shoot in Hyderabad can be tough task. Let's see some of the best free locations for pre-wedding photoshoot in Hyderabad.
Necklace Road and Tank Bund: This is one of the most beautiful stretch for photoshoot in Hyderabad. The long green stretch of road beside Hussain Sagar gives a dramatic feel to the whole set-up. There are many beautiful backdrop for shooting pre-wedding like Love Hyderabad sculpture, graffiti wall, people's plaza, sanjivih park etc.
2) Ammapalli Temple: Ammapalli temple dedicated to Shri Ram Chandra ji is located 5kms away from Shamshabad. It has become a traditional theme shoot destination for pre wedding photoshoot in Hyderabad. Many Telugu movies and songs have featured this temple.
If you have a traditional theme in mind for the pre wedding photo shoot you can opt for this location. The porticos in front of the temple with artistic authentic backdrop provides a perfect fit for traditional pre-wedding photoshoot in an ethnic attire like saree and sherwani.
3) Quarry near Movie Towers ( Gachibowli) : One of the Best Free Locations near city limits is the quarry near Movie towers in kokapet. This place is rough and opt only if you are adventurous. The place is best after the rains and during the winter when there is water in the quarry, making it like some destination photography location. This is one of the hidden locations and is not easy to access so choose photographer who have earlier done shoots here. This location is also superb for cinematic teasers and videos.Drones can also be used for aerial shoots that bring life to your pre –wedding photoshoot session.
Post wedding shoot near Movie Tower quarry close to ORR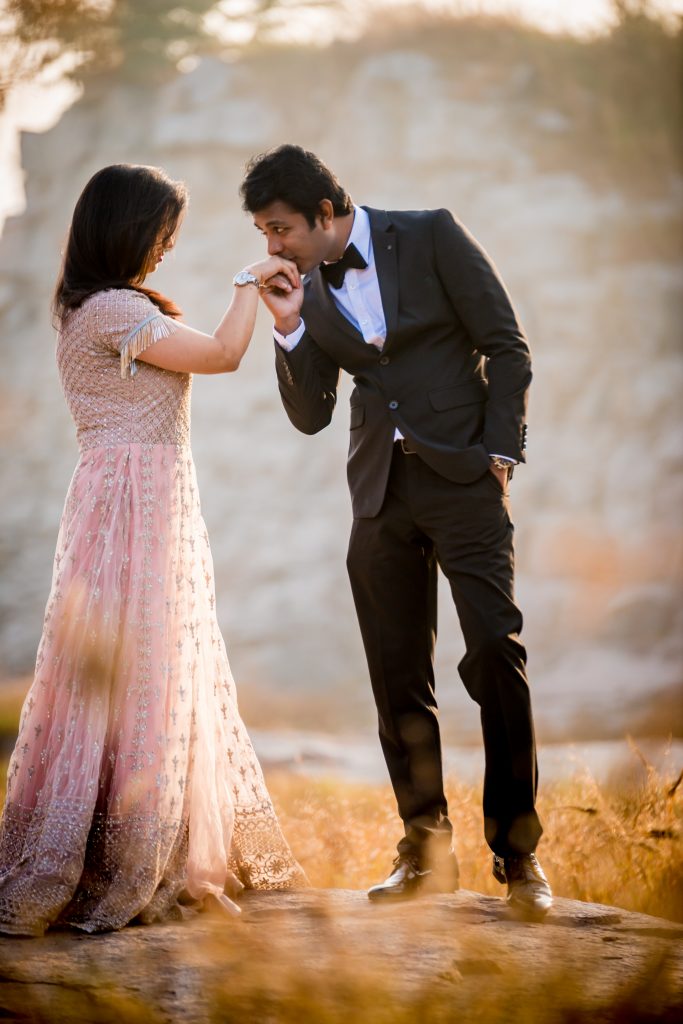 4) Quarry near Rajendranagar: On the way to Hyderabad via ORR there is this secret location which is heaven for creative photographers. Its again a quarry and natural rock formation with black solid rock backgrounds will give you a dramatic picture. The connecting road to the location is a rough mud road and slightly bumpy, but the view of the location is worth the difficult drive. Only adventurous couples can opt for this location. The major problem with outdoor locations like this is unavailability of changing rooms and washrooms.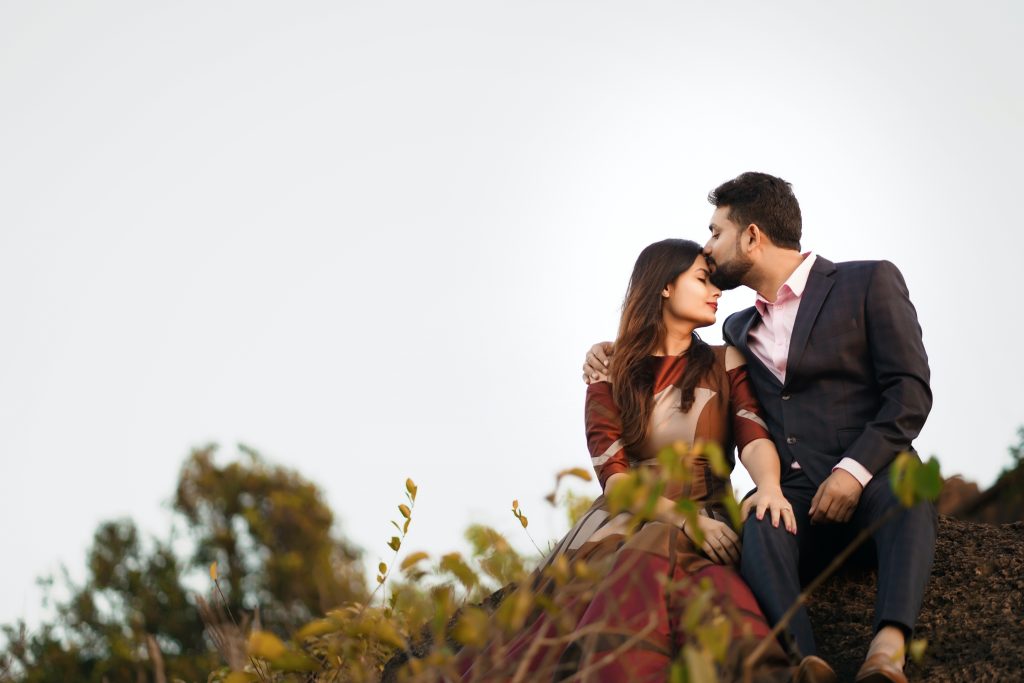 5) Charminar : It is one of the iconic structures of Hyderabad. Hyderabad is renowned for its biryani and charminar. The best time for pre-wedding photoshoot in charminar is only in the morning hours because as the sun rises, footfall also increases in the busy lanes of charminar as it's a business area. So try reaching the spot as early as possible.
These were the locations where anyone can go for a free pre-wedding shoot, if  you want more locations which are paid you can click here.  Also for your Pre-wedding shoot you can contact Digiart Photography.